ARE YOU LOOKING FOR ROOF REPAIR OR REPLACEMENT IN THE DALLAS AREA?
Roofer dallas
Dallas roofer
roofing company dallas
dallas roofing company
roofing dallas
metal roof dallas, roof repair dallas, roof replacement dallas
StazOn  has been one of the TOP ROOFERS IN DALLAS SINCE 1980!  Call TODAY 214-466-1518
StazOn is proud to be part of the NRCA, NTRCA, RCAT, MRA,  A+ BBB member and Invest Grade Roofing
Call the experts at StazOn Roofing Dallas today for
FREE Estimate!
214-466-1518
Certified Roofing Company Dallas
GAF Master Elite Contractor
GAF Master Commercial Roofing Contractor
GAF Certified Green Roofer
metal roof dallas, roof replacement dallas, Dallas roofer, roofer dallas
StazOn is a Trusted Roofing Company Serving Dallas/Fort Worth & All Surrounding Communities 
Residential • Multi-Family • Commercial
StazOn Roofing is your go-to Dallas roofing company. Homeowners and commercial businesses alike rely on our expertise to protect their property from weather extremes. Our Dallas roofing company has crew, resources, and experience since 1980 in roof replacement and repair in Dallas. We can service any type of property for all your roofing needs. This makes us the #1 preferred roofing contractor in Dallas.
Family owned and operated since 1980,  serving our wonderful community with experience, quality, and reliability. StazOn Roofing Dallas has built a reputation on our creativity and ability to handle all projects from simple to complex using quality craftsmanship and on-staff experts. Let us put these qualities and expertise to work for you with any type of residential, multi-family, or commercial roofing project in Dallas and surrounding cities!
Services By StazOn Roofing Dallas
Residential Roofing Dallas
Your home deserves the best protection, and our residential roofing services are designed to do just that. Whether you need roof repair in Dallas, replacement, or evaluations, we've got you covered. We work with a wide range of roofing materials to match your aesthetic preferences. These include tile and metal, among others in the Dallas area.
Commercial Roofing
For businesses, we offer commercial roofing solutions that ensure the safety and integrity of your commercial property. Our expert team handles projects of all sizes, delivering high-quality results on time and within budget.
Roof Maintenance
Regular roof maintenance is the key to preventing costly repairs down the line. Our comprehensive maintenance services include evaluations and cleaning of all types of roofs including tile and metal roofs in Dallas. They also include minor repairs to keep your roof in optimal condition.

Roof Repairs and Replacement
Don't let a faulty roof affect the structural stability of your home or workplace. When you see signs of extensive issues, you can call us for any roof repair projects. We will do a meticulous evaluation of the roof condition to assess if roof repair is sufficient. If not, then we will recommend doing a complete roof replacement in Dallas.
Our trusted crews here at StazOn Roofing are highly trained residential, multi-family, and commercial roofing specialists. You can count on us for any installation, repair, or roof replacement.
Residential Roofing
Multi-Family Roofing
Commercial Roofing
Metal Roofing
Architectural Sheet Metal
Evaluations From Storm Damage
Emergency Repairs
Best Choice For Roofing Service in Dallas & Surrounding Areas
Composition Roofs
Metal Roofing in Multiple Colors
Clay & Concrete Tile Roofs
Custom Sheet Metal Siding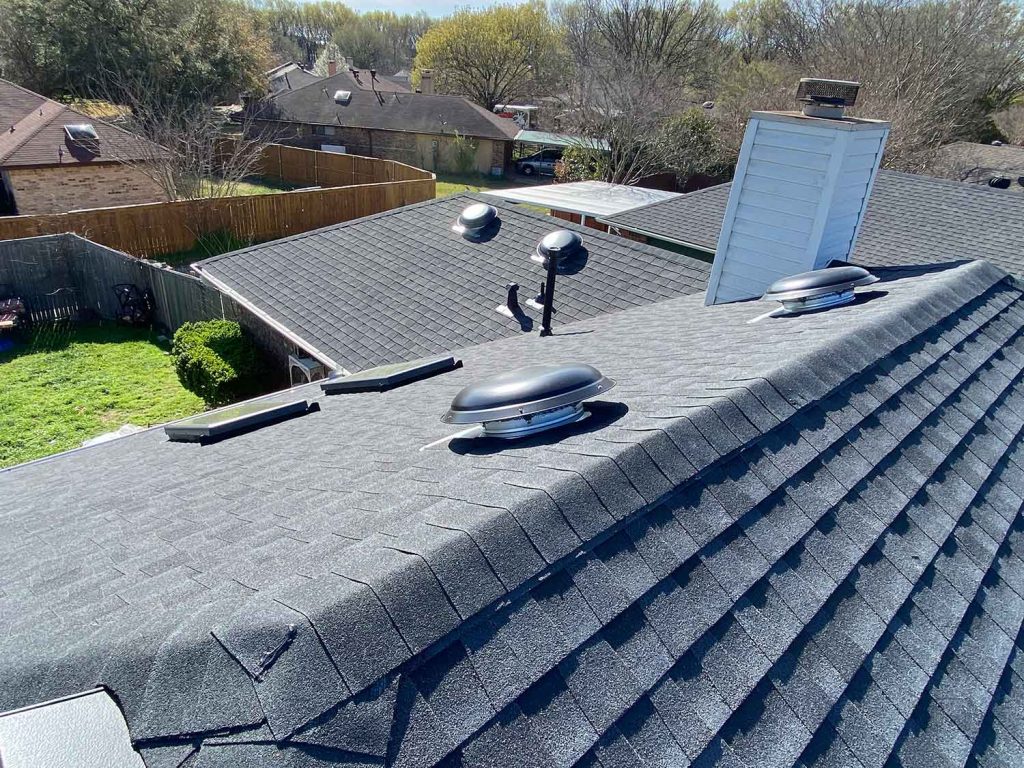 Experience, Quality & Reliability Are Key Factors When Choosing a Roofing Repair Company
Trusting your home to a roofing contractor with the knowledge and expertise to do the job right the first time is key. At StazOn Roofing, our industry knowledge since 1980 as a top roofing company in Dallas brings the technical experience to your project that is needed to ensure it is done right the first time. There are a lot of roof repair companies in Dallas, but you can feel confident your roof will be fairly priced while offering great value when choosing StazOn Roof for all your Dallas roof repair needs.  There are many Dallas roofing options to choose from.
Composition Shingle
Metal Roofing
Spanish Tile/Clay Tile
Solar Shingles
Multiple Panel Options
Commercial or Residential
Custom Metal Work
Corrugated Roofing Panels
Since 1980
SPEAK WITH ONE OF OUR ROOFING EXPERTS NOW!
FIND OUT WHY WE ARE DIFFERENT FROM OTHER ROOFING COMPANIES!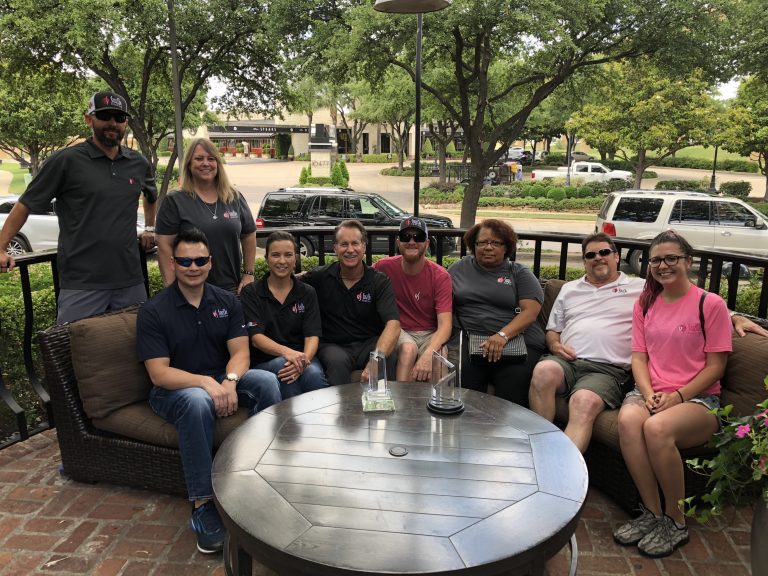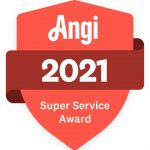 Living, Working, and Supporting Our Community Since 1980
Quality Craftsmanship
Best Materials
Reliability
Personal Pride
Excellent Customer Service
Call the experts at StazOn Roofing today for
FREE Roof Evaluation!
214-466-1518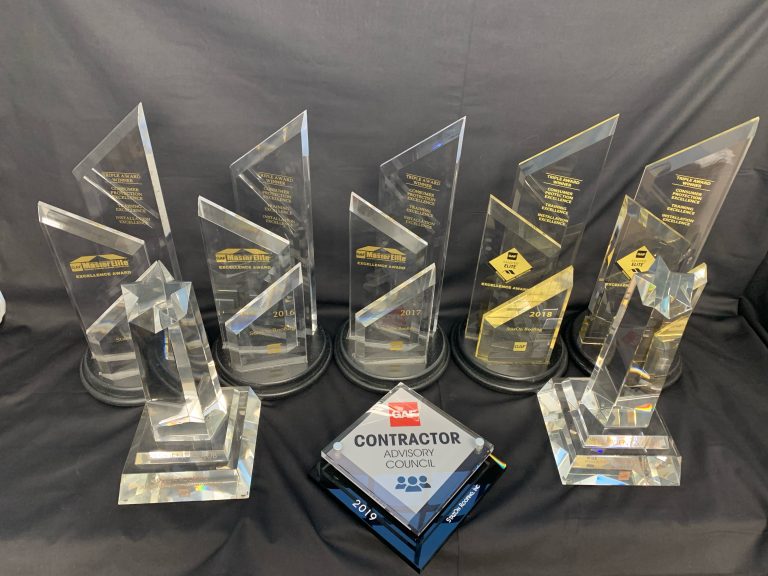 Are you installing, repairing, designing or building a multi-family project?
If you are looking for a multi-family roofing contractor known for exceptional workmanship with extensive training and great customer service, you can count on StazOn Roofing to install, repair or replace your multi-family roof in Texas.
We proudly serve the Dallas, Austin, San Antonio & Houston multi-family markets!
We use top quality materials and communicate with our property owners and construction managers every step of the way to ensure our work meets your expectations.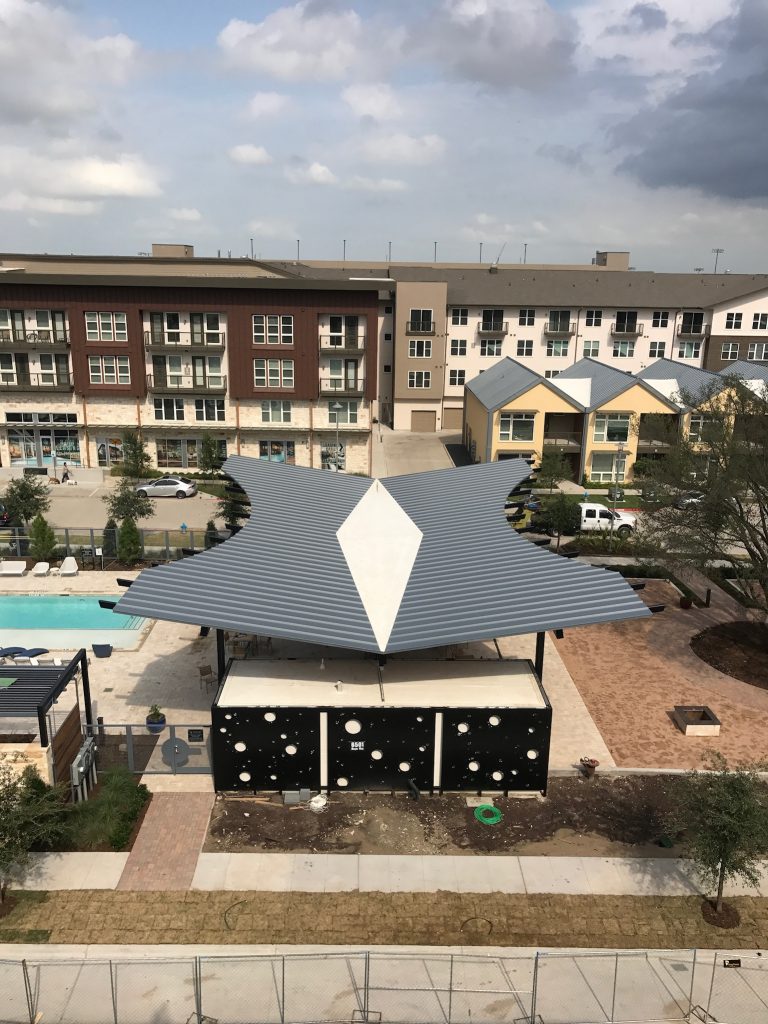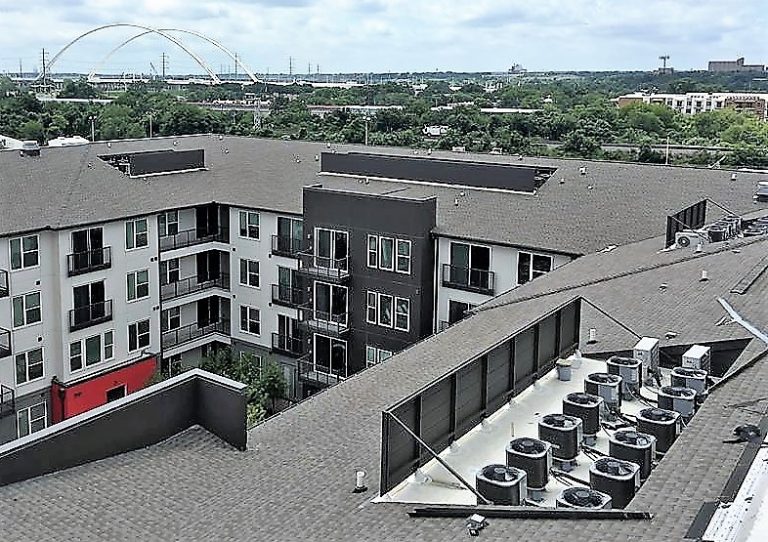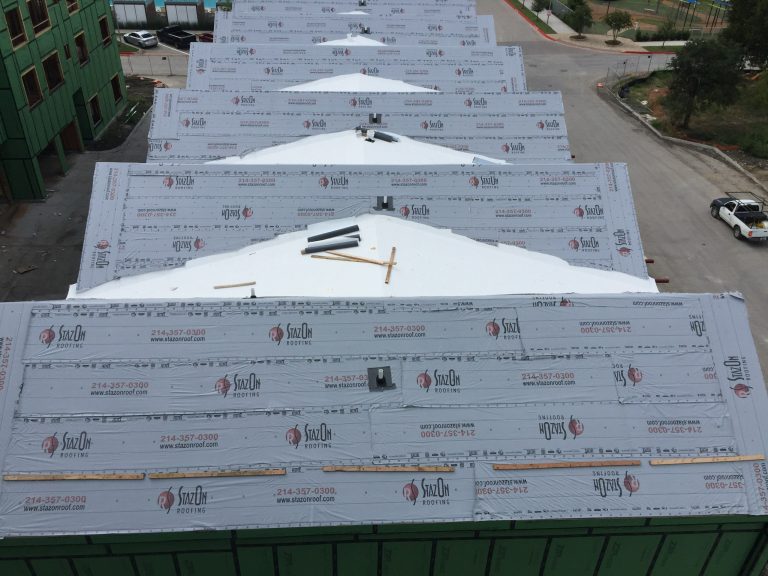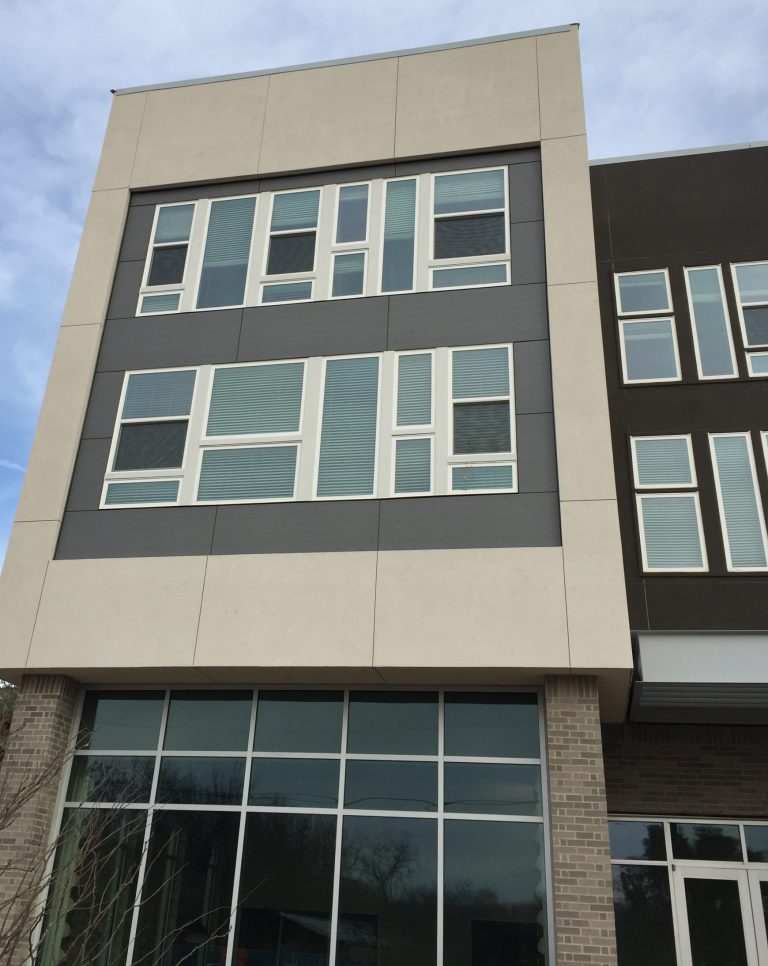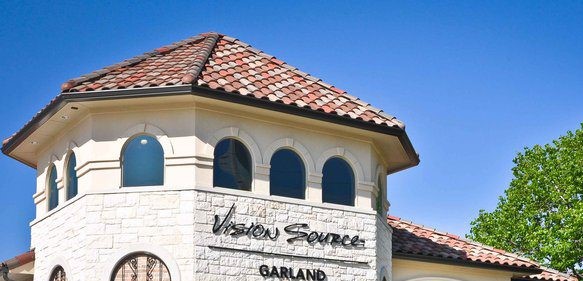 Are you looking to install, repair or replace the roof on your Commercial Property?
StazOn Roofing has been the best solution for commercial roofing installation, repair and replacement since 1980.
We take pride in our ability to provide a full range of commercial roofing services throughout the Dallas Metroplex and Texas. Our expertise is in the following commercial roofing applications:
TPO (Thermoplastic Polyolefin)
Roof Coating Systems
Live Roof Systems
Plaza Deck Roof System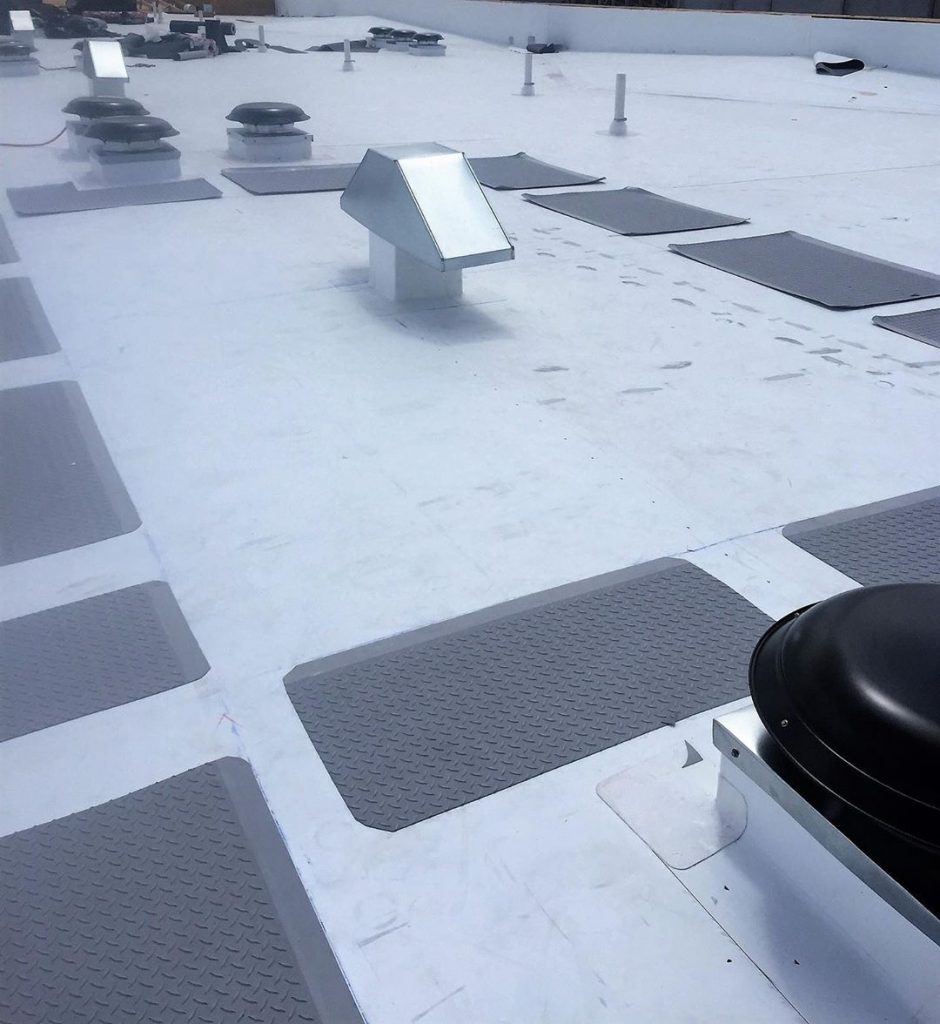 Why They Love StazOn Roofing
Michael T - Google
"StazOn Roofing was extremely professional and knowledgeable. Even better, the price was more than fair."
BBB Verified Purchaser
"We had StazOn replace our roof and have a very good experience, the roof looks great and they kept the yard clean. It's hard to find a company today that as the integrity like StazOn does. I highly recommend."
David M.
Paul, Mike, and Oscar and the entire StazOn roofing team did a terrific job tearing off the leaking modified bitumen on our flat roof, replacing lots of damaged decking, and installing 80 mil TPO with an intricate copper drip edge. I'm super particular about quality and appearance, and we had several points during the process where we had to stop, scratch our heads, and figure out a solution. They exhibited lots of creativity from start to finish, and everyone stayed committed to getting the job done on time and to my satisfaction. I would definitely use StazOn again and I highly recommend their services to others.
Ray M. - Yelp Review
"After he finished the work, he told me it was easier than he thought and he reduced the contracted price by half! I would never had thought to ask for a reduction. I was blown away by his honesty."
E. A. - Yelp Review
"Not only did they come out within hours to do a roof inspection, they completed the work on time and at the price quoted. Their team did a full cleanup of all their materials and trash, so you'd never know they were there except for the beautiful new roof and gutters. So Impressed with StazOn!"
Richard G - Google
Installed new roof efficiently & in a timely manner. Then quickly corrected a problem & left us with a great new roof. Matt Raley & Rob Ramsdale responded responded over & beyond what we expected. They accomplished all of that at cost we4ll below their competition. We give them 10 stars & a huge thank you.
Versatility 
As your trusted roofer in Dallas, we have the experience with various types of residential roofing needs. These include composition shingle roofs, tile roofs, metal roofs, TPO and custom architectural metal for those custom projects that need just the right piece to set them apart. We also serve commercial businesses across Dallas, Fort Worth and neighboring areas. 
Choosing the Best
Our previous customers corroborate our team's exceptional quality work as a roofing company in Dallas. Our emphasis on experience, quality, and reliability, are key reasons why property owners are happy to refer the StazOn team for all of their Dallas roofing projects.
Local Community Experience
Since 1980, our experience has provided StazOn Roofing as a trusted name that residential and commercial customers have learned to rely on for all of their roofing needs in Dallas. But as an ever-evolving company, we adapt to changing needs and advancements in roofing technology and materials. Perhaps this explains why our customers keep choosing StazOn as the preferred roofing contractor in Dallas.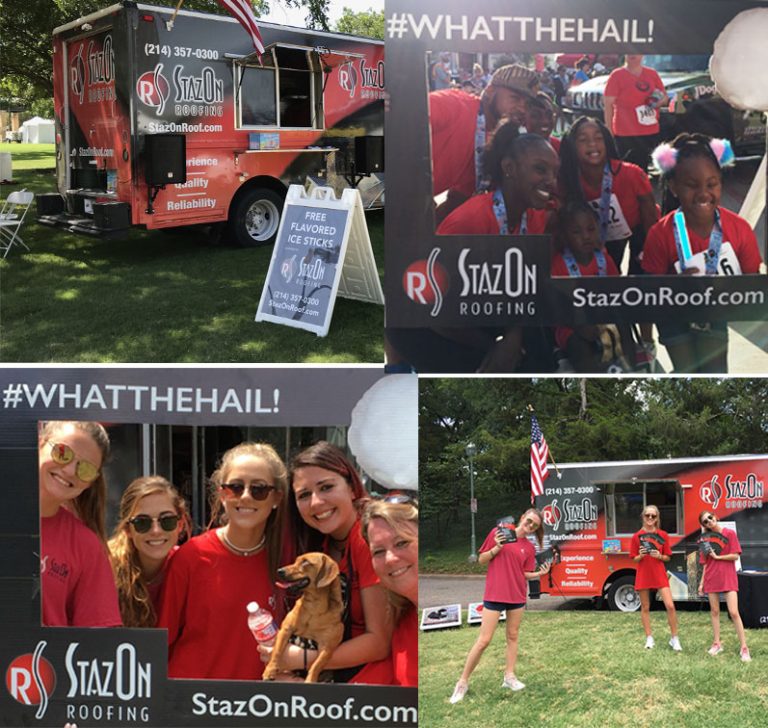 You can count on StazOn when emergencies strike our communities:
We are the proud sponsor of numerous community events, charity golf tournaments and much more. Being a part of community is important to us not only as a corporation but to each employee. We value and love our neighborhoods and our neighbors. A large amount of joy comes in sponsoring local sporting events and teams to include baseball, 5Ks, softball, football, and t-ball, for kids of all ages.
StazOn is immensely proud to support our communities in numerous ways.
Perhaps you have seen our mobile unit at local farmers markets, dog parks, and neighborhood events handing out treats, prizes and playing games with our friends in each community.
StazOn is extremely grateful to all the men and women who have served our country in all branches of our military.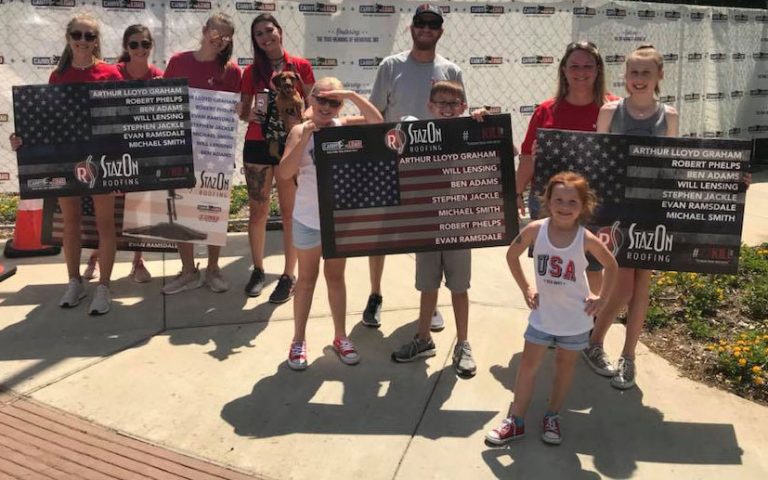 Reach out to us today if you need your roof repaired, replaced, or you need an evaluation before you sell your home.  StazOn Roofing is happy to help. 
Call us at 214-466-1518